It was my birthday the other day and that combined with this year being the 30th anniversary of Star Wars made me feel really nostalgic. I'm still somewhat behind on my podcast listening since I returned from the ice so I listened to the last four episodes of
Star Wars Action News
all in a row and that contributed to the Star Warsy vibe I was high on. I decided I would spend my birthday in downtown Rapid City doing what I love most-looking at old newspaper ads.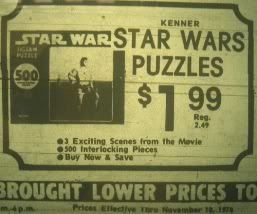 I decided I'd keep my newspaper browsing Star Wars specific and targeted the time frame from May 25th, 1977 through about Christmastime of 1978. I looked at lots of newspapers in those months trying to get a feel for how big of an impact the movie had on Rapid City in the early days of its showing. I came to find that Rapid was not one of the initial release locations of the first film. Star Wars didn't open here until July 1st, a full month after its launch in other larger cities. I didn't know that and it was mind numbingly boring as I scrolled through each page of June movie ads wondering when the heck Star Wars debuted here. I wondered if the buzz about Star Wars was spreading across the country before it got here or if the movie arrived without much fanfare.
After the first few movie ads announcing the arrival of Star Wars in July of '77 there wasn't much Star Wars buzz detectable in the Rapid City Journal. The months that followed from August through November weren't heavy with toy ads from local retailers. Not that it mattered anyways because Star Wars toys wouldn't hit the shelves until '78. I was only three in '77 so I wasn't aware that toys were to be expected from any movie.
As I paged through the ads I was holding out hope that maybe I'd find a local store advertising the early bird kit Kenner sold in '77, but I didn't find that. In fact I found no Star Wars realted advertising at all during the Christmas '77 holiday period. My parents never bought the early bird kit, either. I don't know anybody that did where I grew up in El Paso.
There's an absolutely fantastic series of articles titled "The Kenner Legacy" running in the last few months of
Tomart's Action Figure Digest
magazine that detail the early days of the Kenner Star Wars toyline. Each installment is a great read and I highly recommend tracking them down because they tell the story of the vintage toys through interviews with sculptors and other Kenner employees who were there when it happend.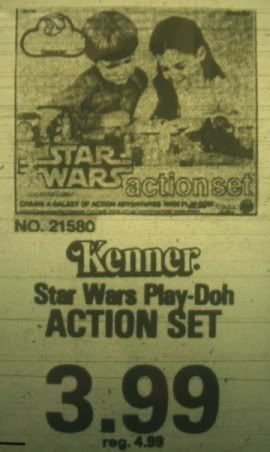 I understood from the magazine that Star Wars figures and vehicles didn't start hitting stores in wide release until April of 1978. So as I was browsing the papers I knew not to expect too much from the papers of 1977. I wasn't dissapointed. I was kind of hoping that 1978 would be a lot better in terms of Star Wars toy ads, especially around April. I expected stores like KMart or JCPenny to flaunt their action figures in their 1978 ads boldy once they had them, and especially during the holiday season. If Star Wars toy demand was as big as I remember it then surely there would be at least one smart advertiser showing off with newspaper ads that had the Luke and Leia toys making out on the front page of their Sunday circular with "LOOK WHAT WE GOT BITCHES IT'S STAR WARS ACTION FIGURE TIME" in bold print with a lot of exclamation marks. But it never happened.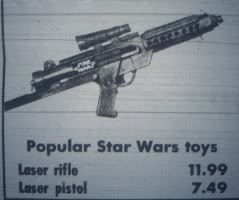 Instead all I found in the Rapid City Journal's newsprint advertising sections were stores cautiously offering up pictures of non-action figure Star Wars merchendise. I found ads for ancillary tie in product like puzzles, games, PlayDoh sets, role play rifles and those posters you 'painted' with felt tip markers. This was along the lines of what I was expecting during 1977. It's as if Rapid City stores were a year behind with their ads. I know that eventually they caught up because by '79 there were lots of Star Wars toy ads. But within the first year and a half of the movie's release it looks like there wasn't much Star Wars action figure action in Rapid City. It could be that figures did pop up but they would sell so fast that it wasn't worth advertising them for fear of pissing off customers.
I found a grand total of one ad for Star Wars action figures from Rapid City Journal advertisers in 1978 and that was from JC Penny. It ran November 22nd, a bit before the holiday shopping season and strangely it described the figures as 'die cast'. It had some weird line art of C-3PO and R2-D2 that looked to be hand drawn. They could have been using the figures as reference but there's too much detail in the drawings that the vintage figures don't have. JCP also ran an ad for 'cast vehicles' on December 3rd of '78.
I assume from the odd wording and the pricing that they meant they were selling the little die cast vehicles. Strangely they used line art that indicated lights coming from the same places where LEDs were placed in the larger vehicles that were scaled to fit the 3 3/4 inch figures.
December 5th saw the first use of an actual packaging photo in a Star Wars toy ad when Mills Drug Store advertised the X-Wing fighter for $10.88. So at least they had some cool stuff. Meanwhile on December 17th JC Penny had the R2-D2 cookie jar advertised with the line "as a gift it would be a hit with any youngster." I wouldn't give any kid a cookie jar to play with seeing how ceramic breaks into shards like it does. Man I guess some stores were hurting for figures.
On my next trip to the library I'll be taking a look at newspapers from the Christmases from 1979-1982 when Star Wars was at its strongest. All in all I was pretty dissapointed with the realization that Star Wars in 1978 wasn't the marketing behemoth that it is today. In an age where it's the right of every American to be able to buy a Darth Vader figure at any hour day or night, it sure is tough to imagine what true scarcity was like during a time when toy distribution was even more crappy than it was in the 80's. The 70's were a nice place to be born but I wouldn't want to collect there. Collectors always talk about how it would be great to have a time machine and go back to buy all those old figures, but from what I see in the papers those time travellers would do best if they avoided 1977-1978 (and Rapid City altogether).
While documenting the lack of Star Wars toy ads from 30 years ago makes for hours of fun, I still decided to hit up some of Rapid City's antique stores. Before I hit the library I got lucky at one of them and I found a carded R2-D2 from the Return of the Jedi line. While the card is pretty bent up, the bubble is fantastic with just about no yellowing and Artoo looks great. He's really really white. I don't know anything about secondary market values for vintage Star Wars figures but they wanted 30 bucks for it so I got it because it was my birthday. There's one right now on ebay with a really yellow bubble with a BIN of $60. I figure I made out good. It made for the most Star Warsy birthday I've had since my sister got me Bespin Han 26 years ago in 1981.