Warning! Extreme robot nerd talk follows! If you do not speak crazy robot nerd, then do not continue! However, if you make it through this you will have earned two semester hours of credit in the Kingdom of Macrocrania Robot Nerd College.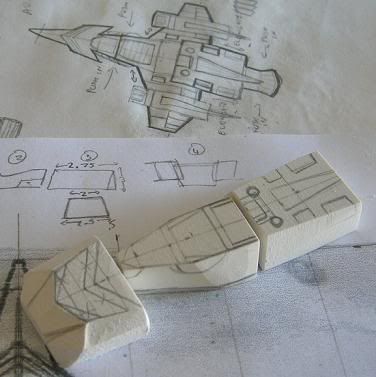 I was at a Transformer convention named
Cybcon
this past July when a resin kit manufacturer named Hal asked me if I'd do some sculpts for his line of kits. I said okay and he told me, "Well my customers want some obscure spaceships that only appeared in a few panels of some twenty year old robot comics." I said, "You're in luck. Obscure robot rockets from twenty years ago comics are what I'm all about!"
And so began my latest month long project where I'd sculpt two robot rockets named Kranix and Arblus. In a nutshell, Kranix and Arblus were two robots with bit parts in the animated Transformers movie from 1986. Their planet of Lithone was destroyed in the first scene of the movie and later on they both are fed to robot sharks in a big pit. So in the hundreds of hours that is teh Transformers cartoon history, these guys appear for a total of about two minutes, then they die horrible gruesome deaths. To me, short lived robot characters that got fed to shark robots just scream out for action figures.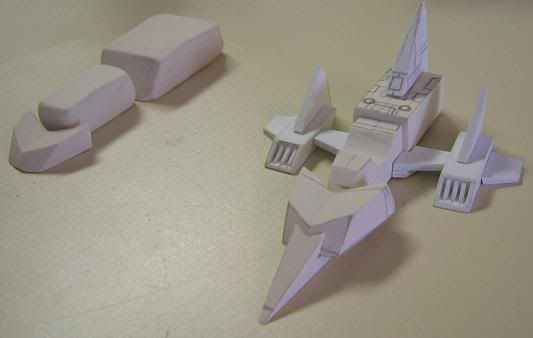 Kranix is seen transforming into a rocket in the comic adaptation of the movie, which is something that never happened on screen. The comic is based on an
early draft of the movie
that has certain scenes and concepts that were cut, rewritten, or never got animated. So you have a situation where the comics canon has the robots from Lithone able to transform, which doesn't work in the context of the final animated version of the movie. Since character models exist for the alternate modes of the Lithonians, there are Transformer fans out there who would like a three dimensional representation of those robot rockets. And who you gonna call when you want crap like that? Me!
I personally think that the concept of transforming Lithonians was eliminated from the movie with good reason. If the Lithonians could transform into rockets, they could have all escaped from their planet when Unicron ate it. Plus, the murderous robots that threw them into the shark pit did not bother to give Kranix and Arbulus laser manacles. When Hot Rod and Kup were thrown into the pit, they got the laser manacles. Once they were able to free themselves of the manacles, they could transform into space cars. So the lack of laser manacles on Kranix and Arblus indicates that the murderous robots weren't worried about them turning into rockets and flying away.
So I pulled out my comics from 20 years ago and I turned to the pages with the rocket alternate modes. Whenever I'm starting a sculpting project I gather as much reference material as I can, but these two guys were somewhat obscure so there's not a lot to go on. Earlier in the year I made robot figures of both of them so I was familiar with their overall body structures. In doing the research for the figure versions, I came to the conclusion that if they transformed, the character models of their robot modes suggested they turned into open cockpit cars, not rockets.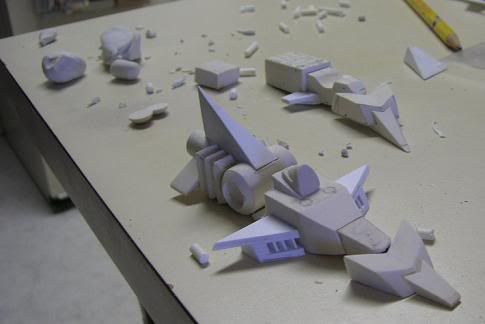 There are certain elements of their bodies that hint at being wheels and seats. I came to the conclusion that if Kranix and Arblus were ever meant to transform by the person who designed their robot forms, they'd have four wheeled alternate modes. It's my theory that the person who designed the movie characters, a man named
Floro Dery
, only created robot mode model sheets for Arblus and Kranix, then when Marvel did the comic adaptation, a Marvel artist came up with the vehicle modes. There is such a huge disparity between the physical attributes of the rockets and the robots that I think it's impossible for those robot s to turn into those rockets. But with the pressure on to complete the comic, the artist had to come up with rocket alt modes to fit in with the script he was given.
In the Transformers Universe comic that serves as the only source of the rocket mode character models, the basis for the designs is credited as "model sheets from Marvel Productions". No one person is given credit, possibly because Floro Dery wasn't known to the Marvel Comics staff since he worked for the animation side of Sunbow/Marvel. This shoots a hole in my theory because you'd think Marvel would credit the artist who drew the rocket mode of Kranix in the movie adaptation (Don Perlin, I think) in Kranix's profile. I just find it really hard to find any correlation between those spaceship looking alt modes and the robots they are supposed to turn into. I find it hard to believe Floro Dery designed those alt modes.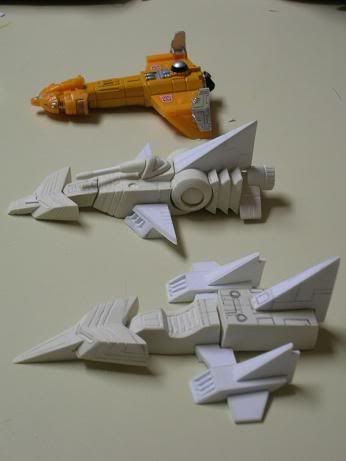 So if I have these objections to the existence of these rocket modes, why am I selling out and sculpting them? Well duh, money. But aside from that they also follow in the category of cool robot ships that I always wanted as a kid but that Hasbro never made. In a way they are the kings of obscure Transformers character models, with Kranix's ship mode appearing in only two panels of one story, and Arblus's rocket mode only existing in the TFU profiles book.
When I was at Botcon this past September, Transformer designer
Aaron Archer
mentioned that he really liked the ships in the Transformers the Movie after he watched it during Botcon. Aaron's Transformer kung-fu is very powerful so if he's interested in creating something, chances are it will be made at some point. He specifically was turned on by the Decepticon flagship and he mentioned how that would look nice in the current Transformers Titanuim line.
I had the Lithonian rocket robots in mind before Botcon and I thought it cool that Aaron was thinking along the same lines as me. I doubt that he'd seriously consider producing ships of the Lithonian character models, but it would be funny if he did. I'm sure the professional Hasbro toy designers and Takara's sculptors could blow my work away.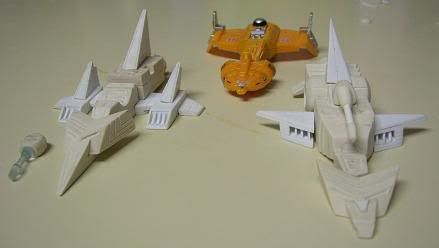 But until that day, until all the obscure characters from the Transformers universes are made into toys, we'll have these rockets I designed. Hal will be putting resin kits of these spaceships into production on or around the beginning of the year at his site,
Rabid Squirrel Productions
.